Aluminium Scaffolding Ladder Specification:

Colour: Silver ladder, black platform

Material: Aluminum alloy, wood platform

Dimensions: 130L x 40W x 140H (cm)

Thickness of Aluminum: 1.2mm

Distance Between Each Step: 27cm

Net Weight: 13.5kg

Weight capacity: 150kg

Custom Label: B72-013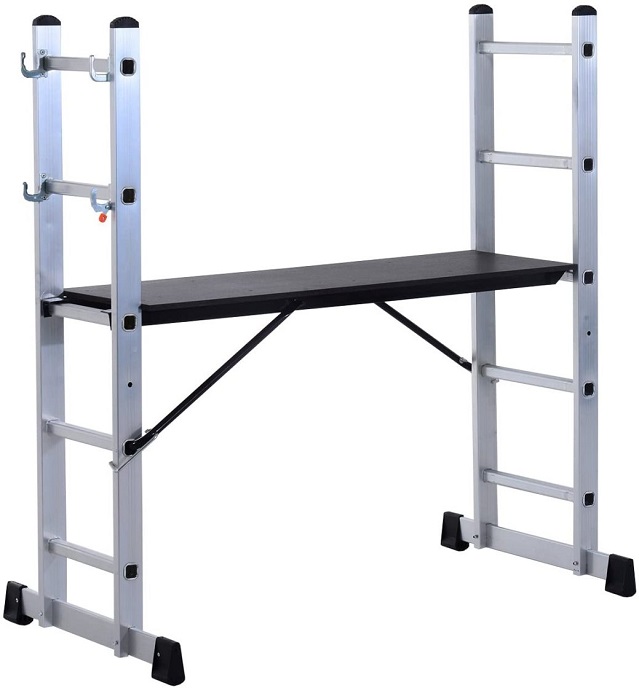 Multi Combination Step Scaffold Platform Features:

Scaffold with durable and large platform for any type of work

High quality Aluminum in stable construction and safety locks and bottom with rubber protective pads ensures the stability and your safety. Certificated to European Safety Standard EN131

Lightweight and strong with a load capacity of 150kg. Compact and easy to store.

As a platform: Scaffolding platform, staircase platform / As a ladder: Single stepladder, double stepladder, extension ladder

Dimensions: 130L x 40W x 140H (cm)
Made from an aluminium construction

Great for painting, patching, wallpapering and hanging drywall

Aluminum step ladder, durable and lightweight

Thick wooden deck for standing with safety

1.2mm extra thick all-rustproof aluminum alloy construction

Safety locking with rubber protective feet

Easy to assemble and store, space-saving design

Can be used as single ladder, double sided ladder, scaffold and so on

Strong load capacity of 150kg
What problems should be paid attention to when using the Step Scaffold Platform ladder?
1. Do not use ladders when you are tired, taking drugs, drinking alcohol, or having physical disabilities
2. Aluminium multi purpose ladder should be placed on a firm and stable ground. It is forbidden to be placed on ice, snow or slippery ground surface without anti-skid and fixed equipment
3. It is forbidden to exceed the marked maximum load-bearing mass during operation
4. It is forbidden to use ladders in strong winds
5. Metal ladder is conductive, avoid close to live places
6. When climbing, the person faces the ladder, grasps firmly with both hands, and keeps the center of gravity in the center of the two ladder columns
7. Do not stand on the steps within 1 meter from the top of the aluminium scaffolding ladder when working, always keep a safety height of 1 meter, let alone climb the highest support point at the top
8. Do not exceed the top of your head with your hands during work, so as not to lose your balance and cause danger
9. It is forbidden to cross directly from one side of the ladder to the other side