6.2M Extension Ladder Specifications:
1.Max Load: 150kg/330lb
2.Weight: Approx.16.3kg(36lbs)
3.Step spacing: 40cm
4.Vertical Length/Fully Extended: 633cm*48cm*8.5cm
5.Closed height: 109cm, Width: 48cm (109cm*48cm*8.5cm)
6.Package Size: 112cm x 50cm x 10cm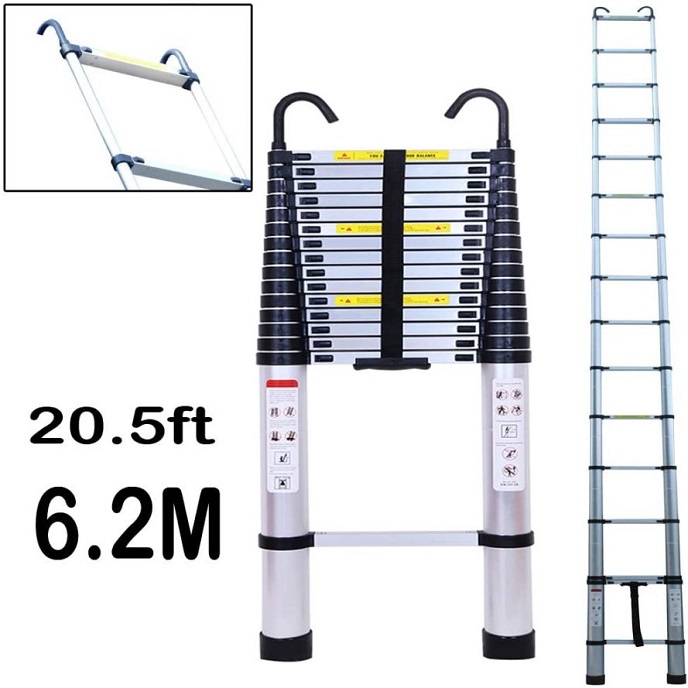 Aluminum Foldable Ladders Features:
1. Lightweight: Approx.: 16.3kg( 36lbs),The ladder is made of Aluminum, build is sturdy. Easy to carry - the telescopic Ladder that is versatile and portable ladder for both indoor, outdoor use house building maintenance, office, warehouse, booksho, Library use。
2. Multi Purpose: Fully Extended : 633cm*48cm*8.5cm, Space-saving Storage: Folding(109cm*48cm*8.5cm), Number 15 steps, Step spacing: 40cm. Suitable for working on a wide range of domestic roofs.
3. Come With Ladder Roof Hook Kit : Convert your extension ladder into a roof ladder,quick to fit on the ladder and secures ladder on the roof.
4. Easy Operate: Extension and retraction, for extension, pull a section up, hear the "click" sound, confirm both left/right locks are in place; for retraction, unlock one step and step, do not put your hand in the Step spacing avoid clip your hand.
5.Security Featureses-- Designed safety in mind, come with Ladder Roof Hook Good secures ladder on the roof. Guarantee your safety with anti-slip rubber foot.
Item specifics
6.2m/20.5ft Telescopic Straight Ladder with Ladder Roof Hook Extendable Folding 15 Steps Multipurpose Ladder Extension
Fantastic product, lightweight, easy to carry, great for Loft Home Office Warehouse Building Archives Muniment Room Kitchen Garden Library Bookstore Bookshop Librairy Window Washing Cleaning Job Home Building Maintenance Decorating Printing Party Decorating Use.
1.Features This Ladder Very Practical, lightweight,Functional,Easy Movement, Space-saving Storage.
2.Lightweight aluminium design and Designed with safety in mind, each rung except the top and bottom rung Featureses a pair of slide latches to lock the rungs into places before the ladder is safe to climb.
3.150kg/330lbs load-bearing capacity
4.Rubber-tipped feet
5.storage straps


Roof Hook Specifics
1.Convert your extension ladder into a roof ladder
2.Secures ladder on the roof
5.Easy to install/ Quick to fit on the ladder