Consider just how many different ladder types there are: step ladder, multi purpose ladder, telescopic ladder, extension ladder, multi-function ladders......
Three key elements of ladder selection are: Height, Performance, Materials.
1. Height.
When selecting ladders for the job, you need to consider the height that you will be working at and the height that you can safely reach to. We recommend always choose a ladder slightly higher than you might need to avoid over reach and follow the instructions on the ladder for safe use.
Choose the right style of ladder to help you get the job done safely and quickly. TOOLSLADDER has the full range of ladders and access equipment help you work safely and efficiently.
You can choose your new ladder by the type of project you are working on-for example working around decorating on stairs, see our easy to use guide to the most common projects where a ladder is needed.
2. Performance:
1)ONE LADDER FOR ALL JOBS
Multi-function ladder uses lockable hinge joints and extension ladder design to function in a numbers of ways, including a step ladder with even or uneven side lengths, a single-section ladder, or as a support for scaffolding functioning like a sawhorse. A ladder operate in different modes so an ideal all round choice, Such as Straight ladder, A type ladder, Platform ladder. You could use multi functional ladder in warehouse, home, outside.

2)COMPACT DESIGN FOR STORAGE AND TRANSPORTATION
The telescopic ladder is the newest innovation in ladders and is similar to an extension ladder, except that the rings collapse for an even smaller storage footprint, Telescopic ladders are available in aluminium. Telescopic ladder with different size, from 2m to 5m, even the height is big, but then ladder closed, with small size, you could put telescopic ladder in a car, under the sofa.

3)COMBINATION LADDERS
Multiple positions in one ladder, the only ladder suitable for working on stairs, safe working height range: 2.72m-4.27m. TOOLSLADDER have 2 sections combination ladder and 3 sections combination ladder. Each section could be use be one single straight ladder, so it is also called multi function ladder.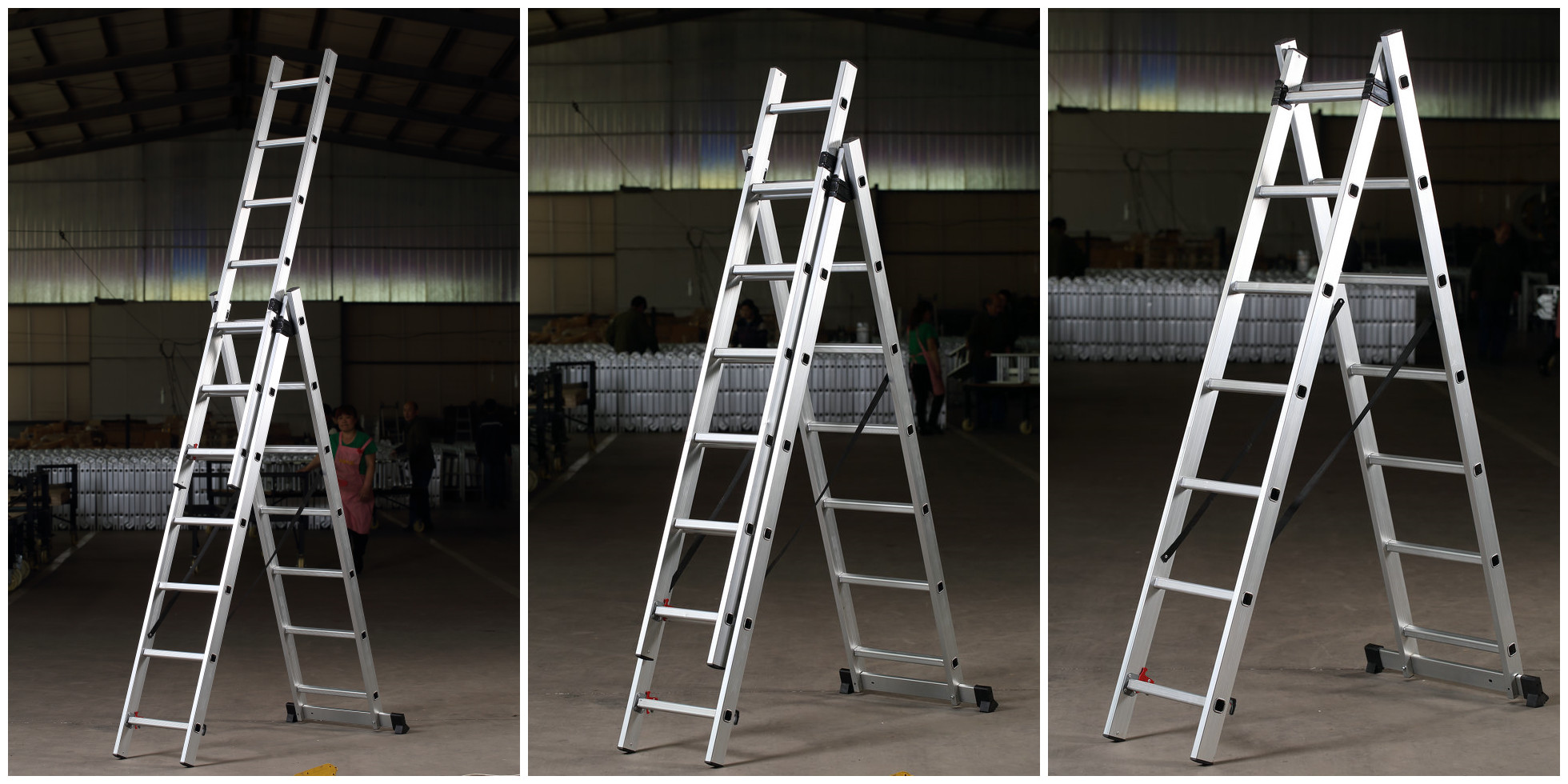 3. Selecting the right material
The different materials in which ladders are designed are are not for aesthetic purposes, rather with different environments and uses in mind. Those working outdoors or in contact with certain chemicals for example will have certain considerations to make.
The team at TOOLSLADDER are on hand to help you select the right ladder for your needs. They are able to offer informed advice and recommend the safest options, taking into consideration all the latest health and safety advice.
Always take care to choose the correct standard of ladder for the job in hand. Our TOOLSLADDER have to meet the new EN131 standard, where applicable, with ladders having a load capacity of 150kg. Aluminium ladder is lightweight, easy to transport, aluminium ladder material is 6063 or 6061, all ladders aluminium profile with heat treatment, so the material have hardness 13-15, This value is very right for one ladder, it is not soft and not hard, when persons stand on it and keep persons safe. So it can loaded working persons. Even Women can carry it easily.
As above TOOLSLADDER selection guideline, I hope you could select your right ladder, then when you are working, it will take high efficiency and enjoyable.