The ladders is a very important tool in many workplaces and households. Made of aluminium, steel or other materials. Choosing the right ladder for your job is one of the most important decisions. Choosing the right ladder for the job is the best first step you can take to preventing accidents from happening.
Ladders have different shape, different material, different size, I will introduce different ALUMINIUM ladders. There are Multi-Purpose Aluminium Ladder, telescopic ladder, step ladder, extension ladder and so on.
Firstly, Ladders usage tips:
1. Multi-Purpose Aluminium Ladder with 2 Iron Plates, Holds up to 150 kg, EN 131 Standard and TÜV Rheinland GS Certified
1)Safe and Reliable: Heavy-duty aircraft-grade aluminium construction; square rungs and supporting tubes, make this folding ladder stable and durable; meets EN131 standard and has been awarded GS seal (TUV Rheinland); maximum load capacity is 150 kg.
2)Large Joints and Security Locks: Multi-Purpose Aluminium Ladder is adopted large joints, whose load capacity and durability are three times higher than the one with smaller joints; connected by six security locks, which can be opened and locked for changing the shape of ladder easily while guaranteeing the security.
3)Multi-Function: This Multi-Purpose Aluminium Ladder can be used as scaffold, leaning ladder, stepladder and also can be changed into many different shapes to meet different height requirements and working needs; folds up for easy storing.
4)Anti-Slip Design: Adopting the design of zigzag anti-slip foot straps, which can prevent ladder from sliding during use to a certain extent; with the undulating ridges of the square rungs, it can avoid soles slipping during use as much as possible.
5)Free Scaffolding Plates: Equipped with 2 anti-slip scaffolding plates, which can be placed on the ladder for safety while standing and stable when using Multi-Purpose Aluminium Ladder as a scaffold.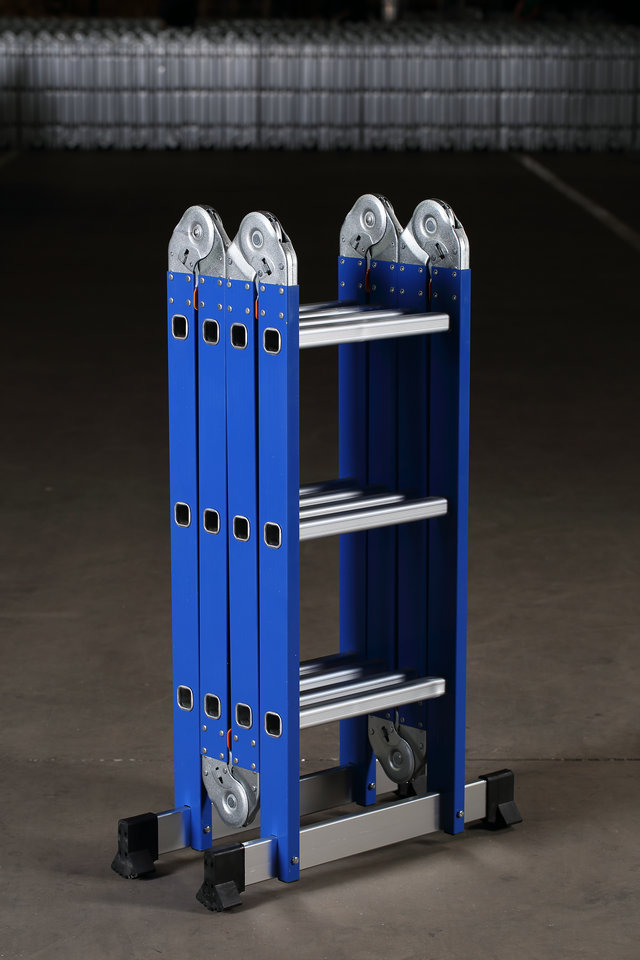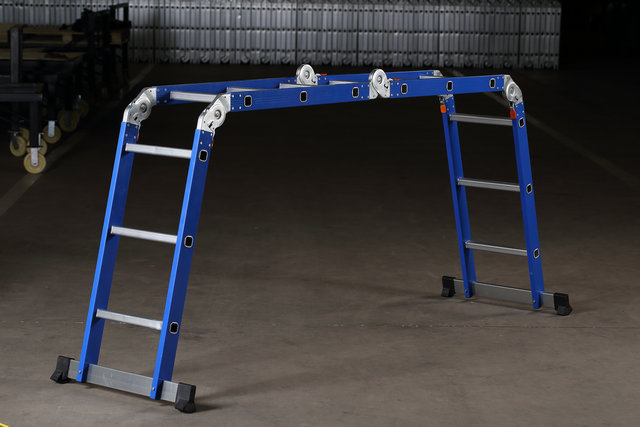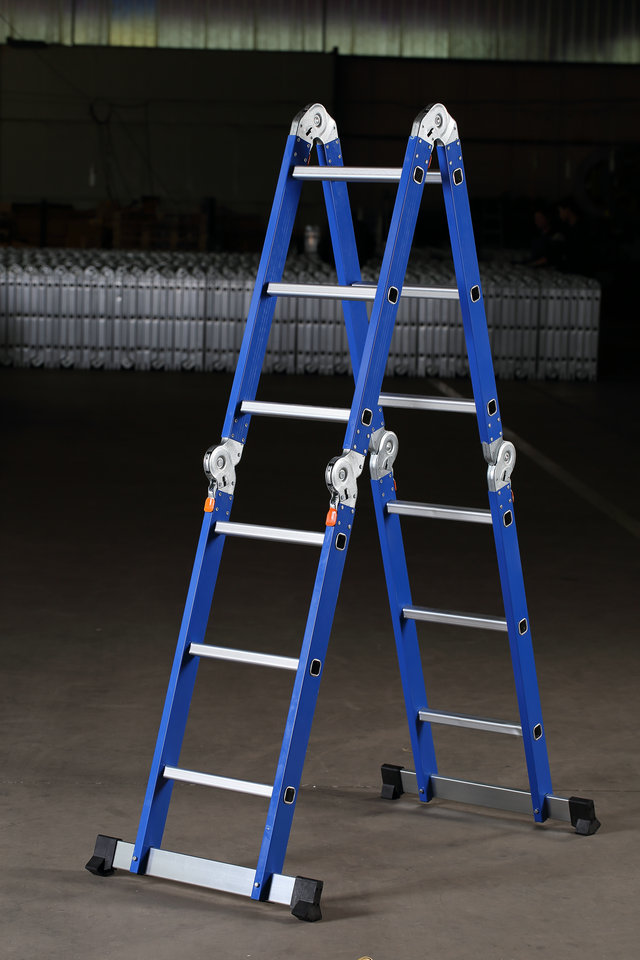 2.Telescoping ladder (Aluminum Telescopic Extension Tall Multi Purpose Loft Ladder)
1)Safey: Every section is designed to open and close safely, without injuring fingers. Non-slip end caps hold it firmly in place while you work, further enhancing its overall safety.
2)Featured Material: Telescoping ladder is crafted from high-quality aluminum alloy. It's lightweight and easy to carry without sacrificing strength.
3)Easy Portability: this telescoping ladder retracts to a quarter of its height for easy storage in your car or other limited space.
4)Considerate Design: Secure Telescoping ladder closed with the heavy-duty strap for convenient storage and transport.
5)Adjustable Height:Unlock each section in 1-foot increments independently to tailor the ladder height to satisfy your needs. The ladder is fully height adjustable and can get all your indoor and outdoor works done. Whether you wish to change a bulb, reach out to the outer roof of your house. Compared to other ladders, it is easier to open and retract this Telescoping ladder.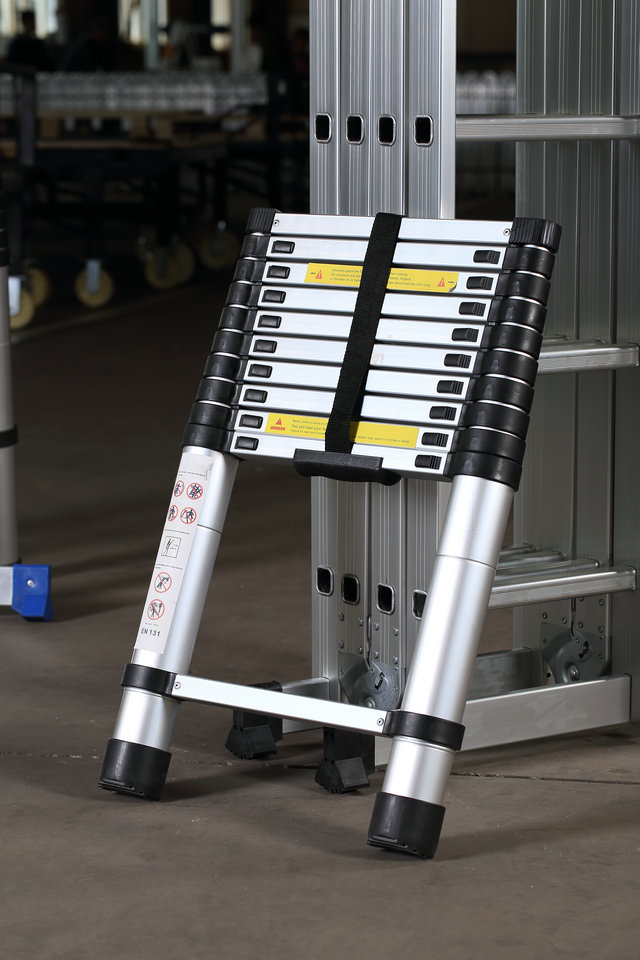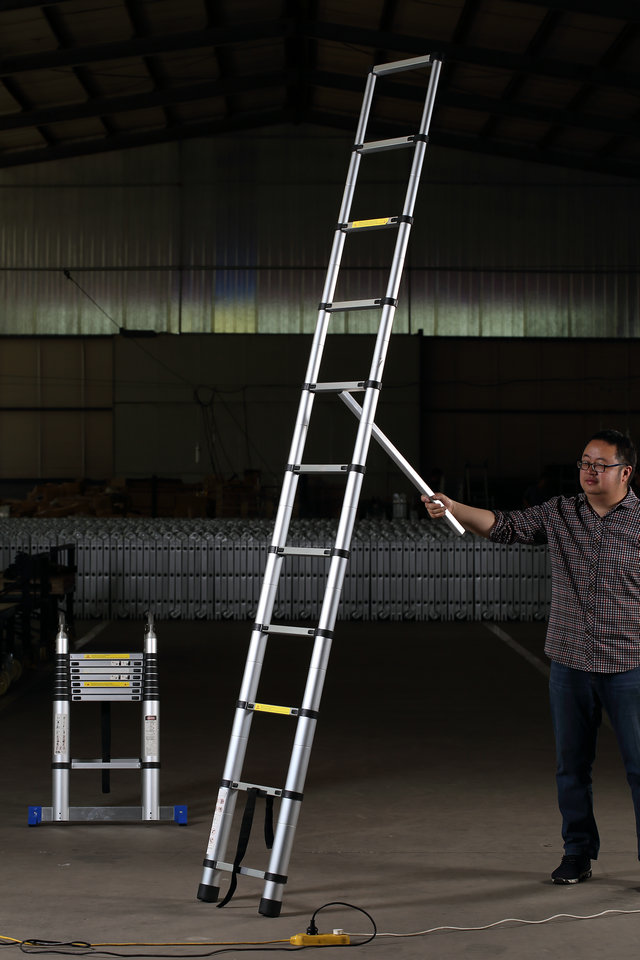 Secondly, Safety tips:
1. Keep the ladder on a stable footing:Although some ladders come with rubber feet to prevent slipping, it's still essential to ensure you are working on a firm footing. It's even more critical when you are working on unstable or uneven ground, such as a muddy or sloppy ground.
2. Avoid overreaching:Overreaching has got to be the biggest sin in using ladders. Do not use the first three rungs of a ladder unless they are designed for use. It does not matter whether you are using an extension ladder, step ladder to a-frame.