Aluminium 6 Step Ladder Features:
6 tread step ladder passes all safety requirements and approved to BS EN131 Part 1-3.

Perfect for domestic use. Easily folds out and locks into place.

Each step is non slip with complete user safety in mind. Each ladder leg has non slip rubber feet to avoid the ladder slipping.

Perfect step ladder for using when decorating, carrying out repairs around the home and much, much more.

Top Platform Height: 121cm - Width of Ladder at Bottom Feet: 48cm - Overall Height of Ladder: 184cm - Length When Closed: 194cm - Weight: 5kg - Maximum Load: 150kg / 330lbs.
Robust platform step ladders designed for domestic use. Wide range of heights available, choose from two to eight treads. Supplied shrink wrapped. Sturdy anodized aluminium construction. Secure non-slip treads. High safety handrail.
Draak products designed for professional & DIY users offering a unique combination of high performance, durability and outstanding value for money. The perfect tools for the tradesman.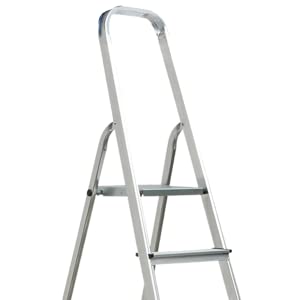 High Safety Handrail
High Safety Handrail provides added security to hold onto when climbing the ladder.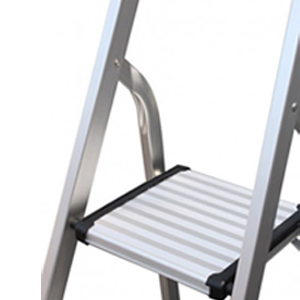 Deep Tread
Deep Tread for comfort when climbing, with a wider top platform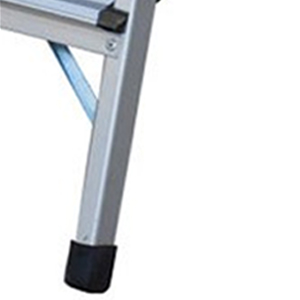 Secure Non-Slip Treads
Non Slip rubber feet grips add a layer of security which prevents the ladder from slipping.
Superior quality

Made from Aluminium

Heavy Duty 150kg MAX

Sturdy anodized aluminium construction

Secure non-slip treads

High safety handrail provides added security

Deep Tread for comfort when climbing

Approved to : BS EN 131: Part 3

Supplied shrink wrapped