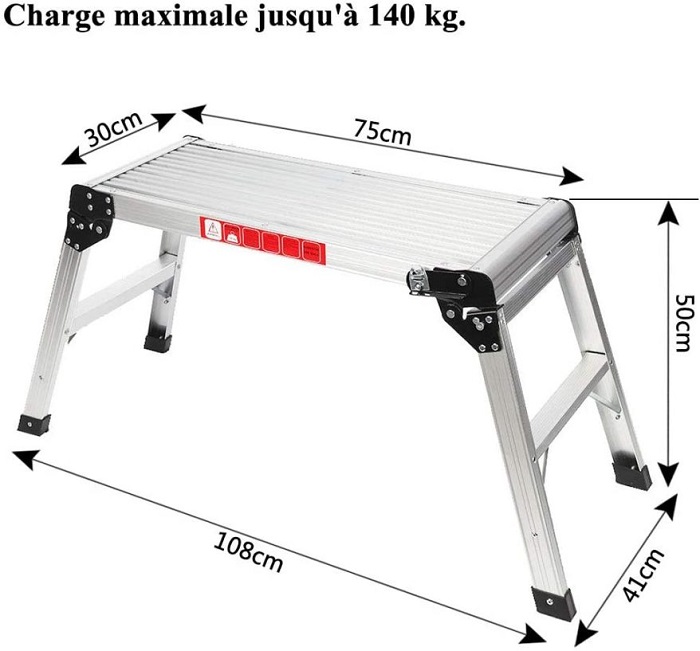 Adjustable Multi Purpose Work Platform Ladder Specification:
Working Height: 50cm (20")
Open size: 108x50x41cm (W*H*D)
Close size: 78x15x41cm (W*H*D)
Platform size: 75x30cm
Material: Aluminium alloy(6063 T5)
Thickness: 1.2mm
Max load: 140kg
Packing size: 80x16x42cm (1pc/package)
Packaging Details: head cover+ shrink plastic bag
N.W: 3.5kgs
G.W: 4.3kgs
Non-slip rubberised feet
Package contents:
1 x Step-Up Work Platform 140kg Capacity
This Aluminium Step Up Bench Ladder made by aluminium ladder manufacturers belongs to the work ladder technology, and relates to a multi-purpose work ladder that can realize the conversion between a herringbone ladder and a straight ladder. The multi-purpose work ladder includes a front ladder frame and a supporting ladder frame, And the working platform set between the two. Among them, the front ladder frame and the supporting ladder frame realize the conversion of the herringbone ladder and the in-line ladder through the folding of the working platform. When the ladder is ladder, the bottom of the working platform rests on the upper surface of the stop, and the side of the working platform has a positioning pin. When the ladder is a herringbone ladder, the positioning pin is stuck on the arc of the frame stop on the support ladder In the chute, the arc direction is consistent with the turning trajectory of the work platform. The multi-purpose work ladder of the present invention has simple structure, convenient operation and strong applicability. Through folding and stretching, it can meet the needs of maintenance work in various occasions and effectively reduce random work ladders. Type and quantity.
Features: 1.Multipurpose. This portable bench can be used for home decoration, DIY, washing vehicles, cleaning windows, holding high things, painting walls, general maintenance work, etc. 2.Collapsible and Adjustable. The platform can be folded for easy storage. You can also adjust the height of the work platform from 50cm to 70cm by squeezing the reinforced smart locks.