At present, many ladders not only occupy a large area in the home, but are not very convenient to use and do not have some protective measures. Therefore, we propose a steel structure ladder that is easy to fold. This product can be applied to different areas, different conditions, and different development needs. It has the advantages of good corrosion resistance and flame retardant performance, high strength, and easy installation.
Instructions for use of 2 step folding steel household ladder:
1. According to the use requirements and the size of the hoistway, select the appropriate composite ladder specification. If there are special requirements, it can be customized according to the actual situation.
2. Suitable temperature range for environment: -20 degrees-+70 degrees.
3. When installing, the horizontal plane of the ladder must be balanced and the vertical arrangement must be neat.
4. When the ladder is pre-buried, it must be ensured that the base of the ladder is fully engaged with the masonry concrete, is dense, and maintains a right angle with the fixed wall to ensure the force area of the base to avoid distortion.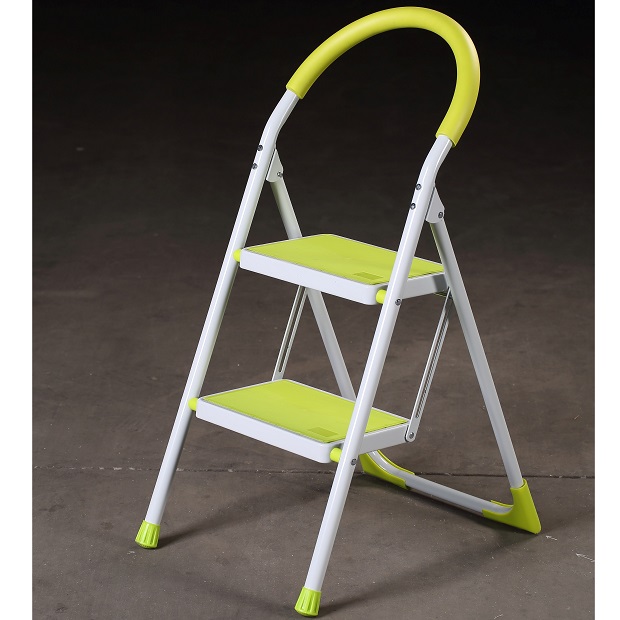 Heavy duty folding 2 step family use steel household ladder specification:
Model No: SL-T000
Material: Steel
Steel Color: Black, Red, White, Plastic part color: Blue, Orange, Red, Black
Size: 1-4 step
Standard export carton or as client's design
4pcs with brown carton
Ladder surface finish with powder coating
Uses: industrial ladder and household ladder
Features: Folding Ladders
Products Description:
Steel ladder

ITEM NO:

SL-T002

SL-T003

SL-T004

SL-T005

SL-T006

Step no

2

3

4

5

6

A(cm)

90

226

250

164

188

B(cm)

47

72

97

122

146

C(cm)

49

65

81

99

117

D(cm)

47.5

47.5

47.5

47.5

47.5

N.W(kg)

3.6

4.4

5.4

6.5

6.5

Packing size

99*28*4cm

(4PCS/CTN)

127*28*48cm

(4PCS/CTN)

152*28*48cm

(4PCS/CTN)

178*28*48cm

(4PCS/CTN)

204*28*48cm

(4PCS/CTN)

20GP(pcs)

800

628

520

460

360

40HQ(pcs)

1860

1460

1210

1000

860
Steel household ladder features:
1.Dual-purpose,be used as ladder and stool for sit.
2.Wide and anti-slip step.
3. Easy to store.
4.Large but suitable plastic foot to have more touch surface when used.
5.Light weight & portable
Quality control:
1.Use new aluminium material,without recycled aluminium.
2.New plastic material without recycling.
3.Inspect the aluminium profile,plastic and other accessories before assembling.
4.Adjust the balance of the ladder,check the finished ladder before packing.
After-sales:
High quality 2 Step steel household ladder made by steel ladder manufacturers, We give 1 years warranty to our customers freely. Any quality problem, we will replace for free within 1 years. Also, any accessories, Please make sure use the ladders in correct way. We always support our customers.