3 Step Ladder With Safety Handrail Specification:
1. Fully Extended 47(W)×66(D)×130.5(H)cm.
2. Close size: 47(W)×8.5(D)×143(H)m
3. Max Load Capacity 150kg/330lbs.
4. Weight: 8.5kg; Material:Heavy Duty Steel. With Safety Handrail.
5. Step Size:38×26cm; Step rise: 23.5 cm, Number of Ladder Step:3.
6. Number of Ladder Step:3.
7. Step rise: 23.5 cm.
8. Material:Heavy Duty Steel.
9. Folds for Portability and Storage.
10. Extra Tall Handle for Better Support.
11. Handrails can be assembled and disassembled.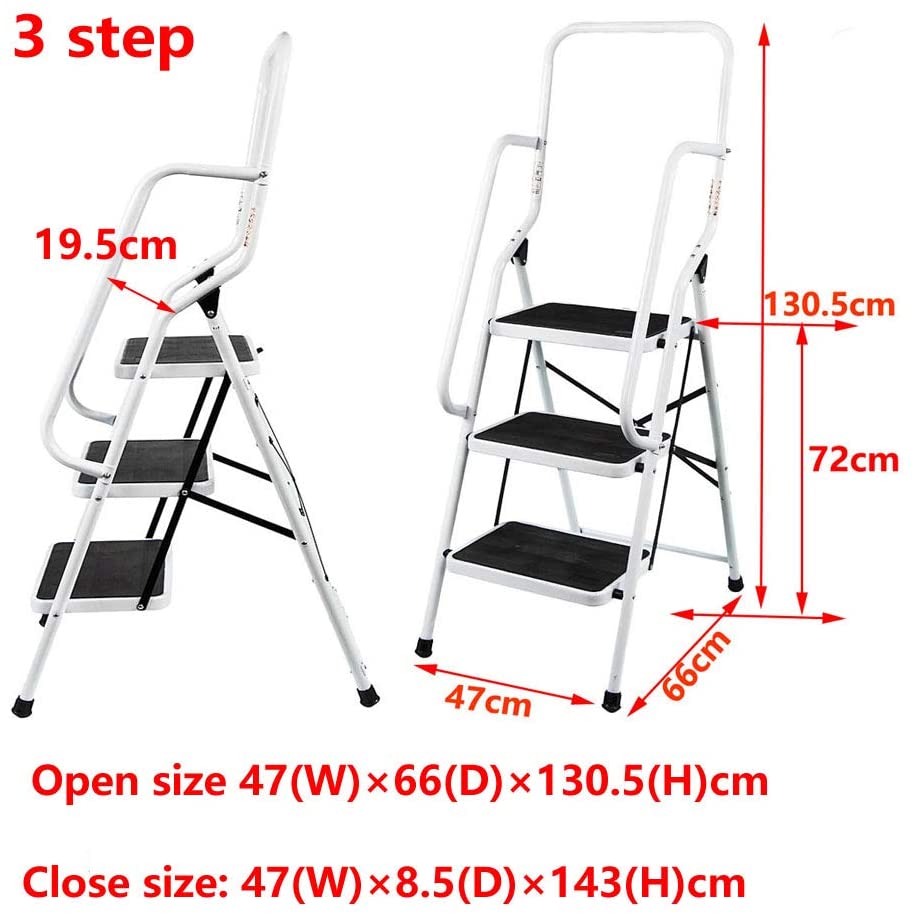 We can use this kind of ladder when decorating the house. When in use, various paints or paints are often dropped on it. Therefore, in order to be able to use the ladder for longer, we have to clean it regularly. Avoid the above substances from causing bad effects on the ladder and make the quality of the ladder worse. At the same time, we also need to add some lubricating oil to it regularly. This can help the ladder to be used more smoothly without getting stuck.
Once we find that the 3 step heavy duty steel folding ladder which made by steel ladder supplier is bent or some parts are damaged, it must not be used directly. If possible, you need to contact the manufacturer or maintenance personnel of the ladder for repair. Timely repair can make the ladder repaired better. The above is about the maintenance methods and repair methods of aluminum alloy ladders.