2.2m to 5.1m Aluminum Extension Ladder Features:
1. Extension ladders are built for the trade, ideal if you are looking for a high quality ladder to use around the home or business.
2. This combination reform ladder can be transformed into different formations to fit a huge variety of purpose of different jobs, such as for interior and exterior painting, decorating, loft access, cleaning windows, gutter cleaning, DIY activities etc.
3. The extension ladder adopted the design of anti-slip foot straps, which can prevent ladder from sliding during using and ensure safety.
4. Reduce fatigue with deep, comfortable D-rungs. Made of high quality aluminum material. The aluminium multi purpose ladder is lightweight but up to 150kg work load capacity.
5. Best customer service. Please kindly feel free to contact us if any issues about our 3 Section Extension Ladder.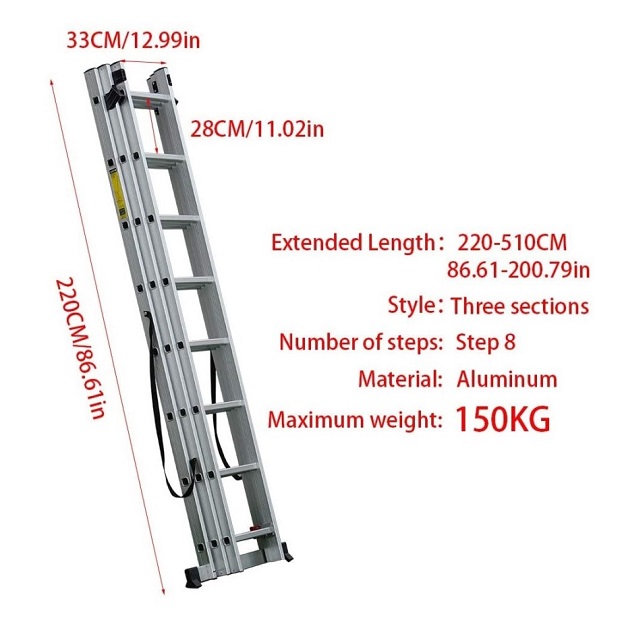 When selecting aluminum ladders from aluminium ladder manufacturers, you must have comprehensive considerations. You can first check whether the design structure of the ladder itself is firm and stable, and whether it is reasonably guaranteed, especially whether the four legs of the ladder are in a horizontal state, and whether the riveting and welding parts of the ladder itself are in a horizontal state. There is a loose phenomenon, which will affect the safety of the ladder. Of course, if there are special requirements for use, the insulation effect of the ladder itself must be optimistic, and whether it can have a good use guarantee. Generally, the appearance design and firm structure of the ladder must be considered comprehensively when purchasing.
When using aluminum ladders, you should also pay attention to the surrounding environment. Choose suitable ladders according to the use requirements, pay attention to load-bearing and structural stability, and be careful when using them, strictly follow the relevant operating requirements, and keep them as good as possible. Self-center of gravity and gravity provide a good and stable experience. In addition, in order to ensure the long-term use of the ladder, some daily basic maintenance and maintenance are also indispensable, pay attention to adding lubricating oil, beware of corrosion, and usually pay attention to whether the material is bent, etc., to maintain the service life of the ladder.


After Sales Accessories Available:
You can easily add a wide range of after sales accessories to get more out of your aluminum extension ladder. The most popular accessories include Roof Hook Kits to convert your ladder into a roof ladder, Ladder Stand-Offs to help you work on corners or around drainpipes.